My vision: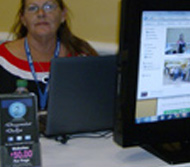 I'm committed to making the Web a success and want to keep building better sites, improve functionality, applications, and content.

I am constantly striving to learn new computer languages and keep up with the changing world of the web. What was new yesterday can change in a week. Anything that was yesterday may as well be 10 years old in the world of technology. It can be difficult, but to me it's like unlocking a puzzle, and I love brainteasers.

Awards:
Excellence Service Award- MTE 2012

My bio:
I went to New Horizon Learning Centers at age 46 to learn a new career. I was in love with computers so I enrolled and then completed HTML, Java-script, Applets, Dreamweaver, Flash, Illustrator , Photoshop, Fireworks, and Web Development, as well as all Microsoft programs. Then, fast forward I went to work for America Online in technical support on broadband connections, and at the same time started Dragons Lair Design. The reason for the name of my company is I collect Dragons of every kind, my house is full of them.
Then I got involved with Kevin Halewood and his two magazine subscription websites at about the same time. (
Mobile-Tech News
&
Detailers Digest
).
When I took over the
Mobile Tech Expo
website and introduced Facebook pages for all three websites 3 years ago, the show has since tripled in size.
I am still learning, and my newest goals are retina (SVG) graphics and HTML5 with CSS3, and J QUERY. I am learning HTML5 animations, and Video implantation, which I already have a very good grasp on. I already read code, so upgrading was not difficult.
Since going to school, I have designed over 60 websites, begun a hosting company and learned vinyl signing, as well as designing beautiful custom graphics in Photoshop for the business.
Thanks For stopping by and visiting my small slice of the web. ~ Fonda Madueno
owner operator ~ DragonsLairDesign.com